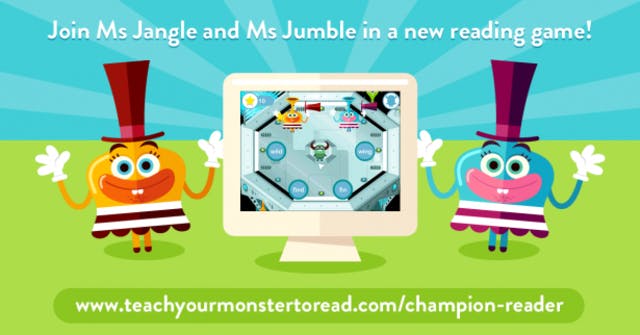 We're pleased to announce that the third Teach Your Monster to Read game will launch on June 4th 2015. We cannot wait to share the game with our players!
Entitled 'Champion Reader', this game will find the monsters in a new universe full of fascinating planets to explore and curious new characters to meet. These include the wise woman Jessica, who is the monsters' friend and guide, the horrible green Goblin Prince who turns people into blocks of ice, and Mrs Jumble and Mrs Jangle, the two top-hatted creatures who have lost their marbles!
Continue the reading adventure with Teach Your Monster to Read: Champion Reader
Explore different ways of representing the same sound
Explore alternative ways of sounding out the same letters
Read more tricky words and play more blending and segmenting games
Read for purpose with magical little books
The computer version is 100% free, forever.
Teach Your Monster to Read 3: Champion Reader complements all synthetic phonics programmes used in schools.
For a more details about the educational content of Champion Reader, please read our game by game comparison.
To play Teach Your Monster to Read: First Steps or Teach Your Monster to Read: Fun With Words then log into your account or sign up here: www.teachyourmonstertoread.com